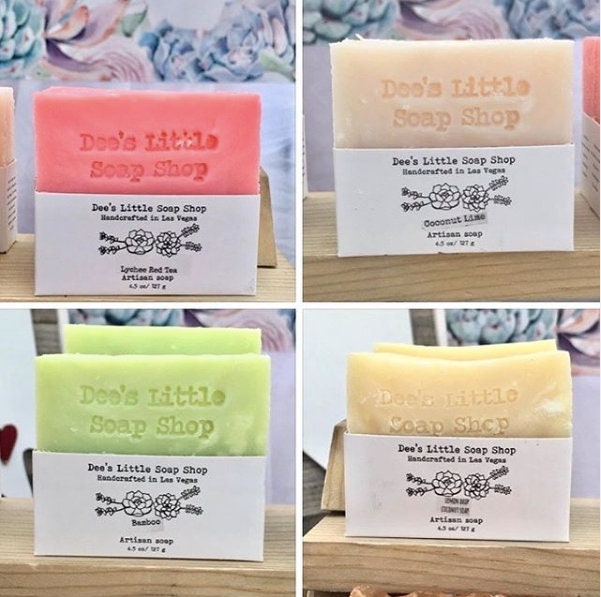 WHOLESALE 4 pound loaf of coconut soap (10 soaps) FREE SHIPPING
$45.00
Listing is for 10 bars of coconut soaps measuring at 3" H, 3"W and 1" depth. The final product will be cut, packaged, and stamped "Dee's Little Soap Shop". If you would like a whole loaf uncut and not packaged, please contact us.

This soap is made using the old fashioned hot processed method using pure coconut oil.

Available scents:
COCONUT LIME-Scent is a bright fragrance that cleanses your senses with the refreshing notes of soothing lemon, zesty lime, creamy coconut milk, and sweet vanilla bean.

FRESH BAMBOO- the scent is fresh bamboo stalks with refreshing aloe and jasmine petals with base notes of vetiver and soft musk.

LEMONDROP- Scent is of sweet sugar gently blended with energizing fresh lemon. Notes: Italian Bergamot, Yuzu, Mandarin, Lychee Flower, Orange Blossom, Ginger Flower, Oak Moss, Caramel & White Santal

LYCHEE RED TEA- Scent is red tea with dew fruit and finished with geranium and Lilly.

BLUEBERRY-Scent is blueberry, orange, spice, marionberries, rose, and almond.

PEACH MANGO- Scent is sweet blend of ripe mango, soft peach and currant.

Our recipe has been reformulated to be palm oil free. Palm oils are derived from forests in Indonesia and harvesting this oil has led to severe deforestation which endangers multiple species mostly Orangutans. We are proud to announce that all of our soaps are now palm oil free and cruelty-free!

DISCLAIMER: Please allow 2 weeks (14 days) for production time.

*Phthalate free
*Paraben free
*Palm oil free
*Detergent Free
*Formaldehyde free
*No animal testing

Handmade in Las Vegas, NV.